The Private Jets Of Google Founders Larry Page & Sergei Brin
Alexander Mitchell from Simple Flying – Reports
The Silicon Valley moguls maintain an impressive fleet.
Larry Page and Sergey Brin, two cofounders of American software and technology giant Google, maintain an impressive collection of private aircraft. Alongside Eric Schmidt, the executives own five different private jets for their own personal use. Notably, these are not Google corporate jets, the aircraft are neither owned nor operated by the company itself.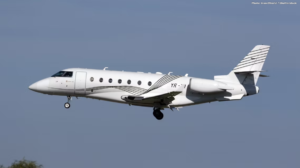 In fact, Page, Brin, and Schmidt have combined forces into a holding company called H211, which officially operates all the aircraft. With their immense influence within Silicon Valley, it is not surprising to see these three wield significant influence over private aviation in the center of the American software industry. In this article, we'll dive deep into the jets owned by these moguls and analyze how they have left their mark on aviation in the region.
The jets themselves
In 2005, Larry Page and Sergei Brin joined forces to purchase a Boeing 767-200 widebody airliner. The purchase of $15 million would make waves as the pair would go on to sink another $10 million into a complete overhaul of the long-haul jet's interior.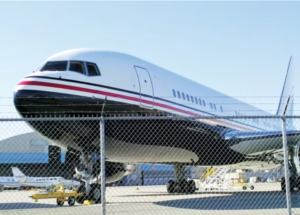 Photo: Daniel DeBolt via The Mountain View Voice
As was reported by several outlets, including The Register, the pair got into an argument about what size bed to have in the jet's primary bedroom, with Brin wanting a California king-sized bed. Ultimately, Schmidt intervened to resolve the issue, yielding the following memorable quote:
"Sergey, you can have whatever bed you want in your room; Larry, you can have whatever kind of bed you want in your bedroom. Let's move on."
The group also owns a pair of Gulfstream Vs, in addition to a Boeing 757 the pair acquired in 2007. In 2008, the pair would make another acquisition, purchasing a Dornier Alpha fighter jet, a unique choice for private civilian operators.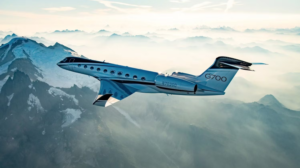 Photo: Gulfstream Aerospace
A private terminal
In 2011, the three Google executives invested $33 million to renovate Hangar One, a historic hangar located at Moffet Airfield in Mountain View, California. The hangar, which was originally constructed in 1933 to house the US military's USS Macon airship, is one of the world's largest freestanding structures and maintains a designation as a historic location.
In exchange for paying to renovate the hangar, the three executives received the right to utilize two-thirds of the space to store their private jet fleet. In 2014, NASA granted Google a lease to operate and manage the facility, which will cost the technology giant a total of $1.16 billion over the next 60 years.
Photo: NASA
In 2016, the terminal entered the news again for toxic paint. However, Google indicated that they were performing tests to identify the best way to resolve the issue. After further investigation, Google indicated that complete renovations would be finished by 2025.
The two Google co-founders, alongside fellow executive Eric Schmidt, maintain a truly impressive fleet of private aircraft. Furthermore, they have also constructed a new terminal for their own use while helping conserve historical aircraft infrastructure. It will be fascinating to see what the tech moguls choose to do with their fleet in the future.
© Sentinel Aviation. Company No. 09400896. Vat No. 221163359.
All rights reserved. Created by AJA Design.