Textron Aviation Delivers 100th King Air 360
Hanneke Weitering from AIN Online – Reports
Textron Aviation has delivered its 100th Beechcraft King Air 360 turboprop twin, the Wichita-based airframer announced Tuesday at NBAA-BACE. The aircraft was delivered to the Comprehensive Blood and Cancer Center, a cancer research and treatment facility in Bakersfield, California, that conducts clinical trials around the world.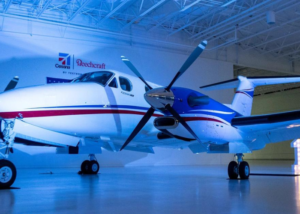 "The addition of this aircraft will be a game changer for us in terms of productivity," said CBCC founder and medical director Ravi Patel, MD. "We are excited about the increased capability the King Air 360 will give us to globally expand our cancer care delivery and research."
According to Textron, nearly 7,800 King Airs have been delivered to customers since the original aircraft debuted in 1964, which makes it the best-selling family of business turboprops.
The King Air 360, the latest variant of the iconic jet, received its FAA type certification in October 2020, followed by EASA certification in September 2021. Upgraded features on the King Air 360 include Collins Aerospace Pro Line Fusion touchscreen avionics with autothrottles, a digital pressurization system, and a fully redesigned cabin.
Textron Aviation CEO Ron Draper said the King Air 360 "continues to really do well around the world, both in consumer applications or special missions or government applications. We're without a competitor around the world, so we're proud of the 100th delivery."
© Sentinel Aviation. Company No. 09400896. Vat No. 221163359.
All rights reserved. Created by AJA Design.