Emirates Launching its own Regional Charter Service
Emirates Airlines – Reports
Emirates has launched an on-demand regional charter service, offering flexibility, convenience, privacy and comfort for customers who want to make short trips in the GCC from Dubai's Al Maktoum International Airport (DWC).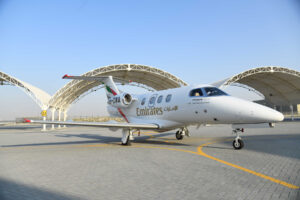 Operated by the airline's Phenom 100 twin-engine aircraft, customers can fly to a wide range of GCC destinations both within and outside of the Emirates network, with quick turnarounds to points in the Kingdom of Saudi Arabia, Bahrain, Kuwait, Oman and within the UAE.
The aircraft seats up to four passengers, and travellers on the short flights will be offered a well-stocked hamper of light bites and refreshments. Each passenger can check in one medium-sized bag weighing up to 15 kilograms, in addition to a carry-on handbag. Customers are encouraged to consult with their assigned booking representative or travel agent if they have any special requests.
The services offer discerning travellers with busy schedules privacy and a high level of flexibility, with a hassle-free ground experience. In Dubai, customers can expect Emirates Chauffeur Drive Services to transport them to DWC, and VIP treatment upon arrival with a dedicated representative who will support them throughout the airport journey, ensuring minimal pre-flight wait times. At their destination, customers benefit from fast on-ground escorted arrival and quick VIP clearance at customs and immigration provided by private terminal service partners. They will also have access to the private terminal lounge upon arrival.
© Sentinel Aviation. Company No. 09400896. Vat No. 221163359.
All rights reserved. Created by AJA Design.