America's FAA Approves The First Flying Car
Rachel Cormack from Robb Report – Reports
Alef's bonkers flying car has been officially cleared for take-off. Alef Aeronautics' two-mode vehicle handles the road like an automobile and hovers like an eVTOL.
The retro-futuristic hybrid, which can be driven on the road like a regular car or flown like a VTOL aircraft, was awarded a Special Airworthiness Certification from the U.S. Federal Aviation Administration (FAA) that enables it to hit the skies under experimental status. The Californian company says it is the first time a vehicle of this nature has received government certification.
"We're excited to receive this certification from the FAA," Alef CEO Jim Dukhovny said in a statement. "It allows us to move closer to bringing people an environmentally friendly and faster commute, saving individuals and companies hours each week."
Of course, there are a few caveats. First, the FAA told Flying that it issued the certificate for a precursor to the production model (the Armada Model Zero, not the Model A). That means the Model A, which is currently on pre-sale, will also need to be cleared to fly by the FAA. It will also need to meet the safety standards of the National Highway and Traffic Safety Administration (NHTSA).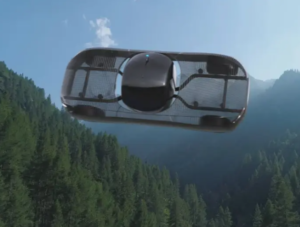 It's also worthwhile pointing out that approval only allows the aircraft to be used for experimental purposes, such as exhibition, research, and development. It's not like the average Joe can jump in the car for a test drive; it will be at least a couple of years before that happens. The company will have to wait for the FAA to certify eVTOLs for commercial use before it can sell, fly, or drive the Model A.
The FAA has also awarded approvals to at least two similar models, including Terrafugia's Transition and Samson Sky's Switchblade. Neither design is fully electric like the Model A, though. The two fixed-wing crafts can only come and go from airports, too, whereas the Model A can execute vertical takeoff and landings in a variety of locations. On top of that, the fully electric aircraft will have a range of approximately 200 miles on the road and 110 miles in the air. It will have a top speed of about 35 mph and will be able to seat two passengers.
Alef says it has received "strong pre-orders" from individuals and companies for the $300,000 (around £233,300) Model A. The company expects the first deliveries will happen in the fourth quarter of 2025.
© Sentinel Aviation. Company No. 09400896. Vat No. 221163359.
All rights reserved. Created by AJA Design.