Tiltrotor aircraft – transforming the world of air transport
Leonardo launch a state-of-the-art technological revolution to redefine what's possible in air travel to connect cities centres or reach remote areas.
The revolutionary AW609 tiltrotor aircraft is the most significant technological innovation in the current global aerospace landscape that will transform the world of air transport and vertical lift. The AW609 will be the world's first tiltrotor aircraft to obtain certification for civil use and it will be initially used in the passenger transportation sector, radically changing the concept of using the "conventional" flight with an airplane or a helicopter.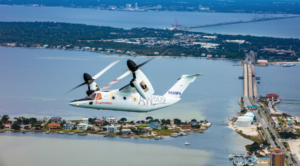 Technically, the tiltrotor is an aircraft designed and built to synthesise the helicopter's operational versatility and the airplane's performance advantages. The helicopter and the airplane will remain faithful to their present formula with the requirements that have made them successful: hovering and vertical take-off/landing for the former; high speed, high altitude and long range flight for the latter.
The ability to integrate so many different characteristics into one vehicle overcoming certain limitations experienced by fixed-and rotary-wing. The result is an aircraft that allows stationary flight and vertical take-off and landing, plus a range and cruising speed twice that of a helicopter of equal capacity and a higher operating altitude.
To read more please click here.
© Sentinel Aviation. Company No. 09400896. Vat No. 221163359.
All rights reserved. Created by AJA Design.