This New Chopper-Like VTOL Is 40% Less Expensive to Fly Than a Conventional Helicopter
Rachel Cormack from Robb Report
ARC Aerosystems is moving from unmanned to manned.
The UK startup, which has designed two UAVs for cargo transportation to date, has just unveiled its first passenger plane. The new ARC Linx P9, which debuted at the Airfinance Journal event in Dublin last week, has been billed as the "world's most advanced nine-seater aircraft with vertical take-off and landing (VTOL) capability."
Designed as a cost-effective, low-carbon solution to intercity travel, the newcomer offers the flexibility of a helicopter with the performance of a fixed-wing utility aircraft. The cabin roughly doubles the payload of typical eVTOL air taxis, meaning it can take more passengers and cargo. In fact, it's similar to an AW109 helicopter in terms of size.
The Linx has a far less complex drivetrain than a chopper, though, that will reportedly reduce the overall maintenance costs. The craft is equipped with a single rotor and twin turboprop engines that can run on Sustainable Aviation Fuel (SAF) or even hydrogen in the future.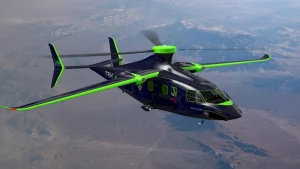 With a composite airframe, the lightweight vessel will have low drag and will be able to reach 200 knots at full tilt or cruise at 162 knots. It can also fly up to 13,000 feet for a maximum of 512 nautical miles. To top it off, the versatile plane is able to perform a jump take-off and no-roll landing without the need of a runway.
The vessel is said to be 40 percent more cost-effective than traditional helicopters (based on the DARPA model) and have a 30 percent increased range compared to similar size helicopters (based on the Roskam method).
"It's a very exciting design concept that is the ultimate solution for the market, that is affordable, safe and practical, whilst providing the right answer to the current environmental concerns," ARC's CEO Seyed Mohseni said in a statement.
Inside, meanwhile, the cabin spans 268 cubic feet and can be configured with seats or without seats. It will reportedly offer the comfort of a private jet but the affordability of a flying taxi.
The new ARC Linx P9 could enter service as soon as 2028. Keep your eyes on the skies, folks.
© Sentinel Aviation. Company No. 09400896. Vat No. 221163359.
All rights reserved. Created by AJA Design.