The World's First Luxury Hotel in an Airplane
Arushi Sakhuja from Luxe Book – Reports
This is right out of an airline geek's fantasy. Formerly part of the defunct airline Mandala airlines, this retired Boeing 737 has been transformed into a luxurious private jet villa and is located on a clifftop near Nyang-Nyang, Bali. The cliffside villa is the world's first luxury hotel to open inside a commercial aeroplane.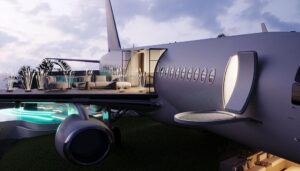 Known as the Private Jet Villa, the aircraft was purchased by developer Felix Demin (also the owner of Bubble Hotel Chain) back in 2021 and was transported to its remote location on a cliff 150m above sea level. This was one of the most challenging parts of the project and transporting the plane and reassembling it in its current location required two cranes and a team of 20 people who worked for two months. In addition, Bali's narrow, winding roads and low-hanging wires meant that 600 metres of the road had to be created just for the project, and the transportation of the plane took five days in total.
The villa can be accessed via a staircase leading up along the wing to the main entrance. Inside, there's a living room with a bar, a sofa bed and a glass portal, as well as two bedrooms with walk-in closets. The cockpit has been converted into a large bathroom with additional portholes. The property also has sun loungers, an outdoor lounge area and a fire pit.
Inside the Private Jet Villa 
The interior design of the villa features light colours and incorporates items and materials that were meticulously collected from across the world. "We use fine Egyptian cotton for bed linen and we searched for a beige toilet from more than 50 manufacturers around the world – finally, we found one small manufacturer in Spain who undertook to make it specifically for our project," shared Denim. It is complete with two bedrooms and a swimming pool and ocean views. Both the villa's bedrooms have walk-in closets and guests can even walk straight onto the wing of the plane from the living room.
The living room features luxe interiors including a bar, sofa and a  glass portal where Denim plans to use smart glass technology. "When you press the remote control, the transparency of the glass changes and a gorgeous view opens up. I want people to experience the 'wow effect' from every second of being in this unusual place," says Denim. There's also an automated smart home system for opening and closing the porthole curtains.
The villa will open in March and is available to rent from April, with nightly rates starting at around $7,000.
© Sentinel Aviation. Company No. 09400896. Vat No. 221163359.
All rights reserved. Created by AJA Design.