World's Best Luxury Beach Resorts are all About Culture & Environment
By Kathryn Romeyn, Devorah Lev-Tov, Margot Bigg, Kristin Braswell of AFAR – Reports
There's nothing quite like sinking your toes in the sand while listening to the sound of waves crashing on a beach. Ocean retreats are sanctuaries for many travelers, who often come home inspired to protect the marine settings that brought them so much joy and tranquility.
The best luxury beach resorts in the world don't just deliver ocean views, picturesque beaches, standout design, and activities on the water. They're also working every day to become better custodians of the ocean through their environmental and cultural stewardship. Learn more about this trend, and read on for the 15 best beach resorts around the world—in no particular order—that are going the extra mile to protect the marine habitats that inspire us all.
1. Four Seasons Hualalai
Location: Kailua-Kona, Island of Hawai'i
Set on close to 900 sandy coastal acres on the western coast of the Island of Hawai'i, the Four Seasons Hualalai pulls out all the stops on luxury. The 243 spacious guest rooms and suites are clad in dark wood, with open plans that face the ocean. For multigenerational groups, the villas—with their wide verandas, multibedroom setups, and direct beach access—feel like private residences. The spa's lengthy menu of treatments showcase Hawaiian ingredients, such as local volcanic mud.
Courtesy of Four Seasons Hualalai
2. Turtle Bay Resort
Location: North Shore, O'ahu
On the North Shore of O'ahu, Turtle Bay Resort is the only hotel of its caliber on this less developed part of the island. Set on a 1,300-acre property—half of which has been set aside permanently for conservation—the 408 rooms and suites all have ocean views and a neutral/blue palette inspired by the surrounding area. The resort's commitment to environmental sustainability is palpable: Meals are prepared with leafy greens, beets, and other crops from the resort's own Kuilima Farm, a plot of land five minutes from the hotel with a farm stand and "you-pick" self-harvesting days for locals. Meanwhile, the 18-hole golf course is maintained with gray water treated by the resort's own plant.
Courtesy of Turtle Bay Resort
3. Playa Viva
Location: Zihuatanejo, Mexico
With 19 rooms and tree houses inspired by manta rays, cooled by sea breezes just south of Zihuatanejo, this 200-acre coastal resort has its own long stretch of sand and surf—plus swimming pool, restaurant, and bar. Playa Viva earned B-Corp certification in early 2023; its many standout sustainable efforts include a watershed regeneration project, a 20-acre permaculture farm, and reforestation work. The retreat operates 100 percent off grid thanks to solar power. Guests can go out late and patrol the beach with the local volunteers of La Tortuga Viva in search of sea turtles laying their eggs and then help move the nest to a safe sanctuary in the dunes.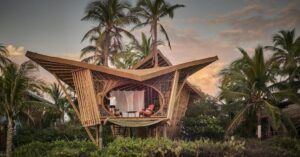 Courtesy of Playa Viva
4. One&Only Mandarina
Location: Rivera Nayarit, Mexico
This resort on the Pacific-side Nayarit coast inside the exclusive Mandarina residential community consists of 105 massive villas made from clay, wood, metal, and stone—all indigenous regional materials. In the 40 lofty tree houses built using native Cumaru wood, guests can take in the leafy jungle canopy while lounging on their private outdoor decks, swimming in their infinity pool, or soaking in their open-air bathroom's tub.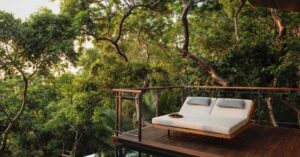 Courtesy of Mandarina
5. Lapa Rios Lodge
Location: Osa Peninsula, Costa Rica
Since its inception in 1991, Lapa Rios Lodge has operated as an eco-lodge with sustainability and community development at its core. It's set within a 1,000-acre swath of tropical lowland forest next to Corcovado National Park, which holds more than 2.5 percent of the world's biodiversity. Alongside the retreat are a string of quiet, picturesque beaches on the Golfo Dulce that guests can visit for surf lessons and swimming.
About 80 percent of the property is primary forest filled with tapirs, three-toed sloths, and more than 300 species of birds, including green macaws. The 17 ocean-facing suites and villas have hardwood floors and wraparound decks, and they're stocked with biodegradable shampoos and soaps. They get 100 percent of their energy from solar panels and nano-hydro turbines, whose excess energy can also be stored in batteries or in auxiliary water heaters. Each guest pays a $25 fee that supports the lodge's sustainability and community programs, among them support of two local schools and reforestation programs in secondary growth areas of the rain forest.
Courtesy of Lapa Rios
6. Six Senses Ninh Van Bay
Location: Nha Trang, Vietnam
Midway down Vietnam's long coast in the region of Nha Trang, Six Senses Ninh Van Bay can only be reached by boat, a 20-minute ride along a tree-lined coast that offers a chance to spot the bright blue faces of endangered black shanked doc langur monkeys. The resort's 62 pool villas are scattered along the beachfront and on a hillside; all feel like a high-end Robinson Crusoe fantasy with their timber and bamboo walls and wooden soaking tubs. The organic garden provides thousands of pounds of produce for the restaurants each year. The resort has its own water plant, chicken coop, tree-planting project, and reef restoration program, and it is powered by Vietnam's first solar complex.
Courtesy of Six Senses
7. NIHI Sumba
Location: Sumba Island, Indonesia
On the southern coast of the less-visited island of Sumba, east of Bali, NIHI Sumba sets a high standard for responsible community engagement. The resort employs hundreds of Sumbanese people on its 667 acres of lightly developed grounds. Inside the 27 thatched-roof villas, which range from one to five bedrooms, local craft traditions like carving and weaving appear everywhere; each villa also has its own swimming pool. When not dining and drinking in one of the three standout restaurants or swimming with horses and surfing the world-class private wave, guests are invited to connect with the Sumba Foundation and its projects. The resort's founder launched the NGO in 2001, and social impact projects range from malaria prevention and treatment to clean water access and education.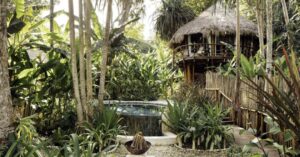 Courtesy of NIHI Sumba
8. The Brando
Location: Tetiaroa Atoll, French Polynesia
Encompassing 35 private villas on the Motu Onetahi coast of Marlon Brando's very own French Polynesian island, Tetiaroa, the Brando is one of the most luxurious places to stay in the South Pacific. It also has some serious sustainability cred: The LEED Platinum-certified resort—the world's first—is carbon neutral, thanks to such efforts as an air-conditioning system that draws from cool ocean water, on-site composting, and a desalination plant that produces fresh water for the resort.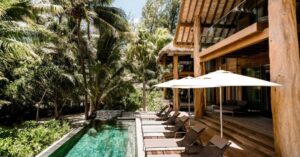 Courtesy of The Brando
9. Coulibri Ridge
Location: Dominica
Coulibri Ridge sets a new sustainability standard for the less-visited Caribbean isle of Dominica. The 14-suite off-the-grid hotel, on the southern tip of the island, uses solar panels and wind turbines for electricity, and pure rainwater is harvested and filtered on site. (Visitors can learn more on a tour around the property.) Nearby Martinique is visible from the rooms, which include full kitchens, terraces, and recyclable or renewable materials in their decor, such as hand-chiseled stone on the walls and recycled teakwood light fixtures. The 285-acre resort offers endless ways to commune with nature, whether by stargazing from chlorine-free infinity pools or enjoying yoga in the open-air pavilion surrounded by tropical plants.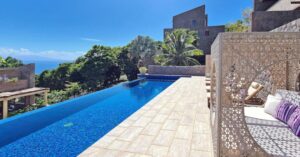 Courtesy of Coulibri Ridge
10. Potato Head Studios
Location: Bali, Indonesia
In the busy coastal town of Seminyak, one of Bali's most sustainable beach resorts delivers panoramic sea views from 24 of its 168 minimalist yet warm-toned studio accommodations. The design by the Rem Koolhaas–led OMA firm uses locally woven recycled plastic ceilings and terrazzo from broken bricks and waste concrete. The suites are green down to their recyclable amenity packaging and fully biodegradable slippers. Reclaimed materials are also used in large-scale sculptures by acclaimed international and local talent.
Potato Head Studios shares a handful of restaurants and bars with sister sites Potato Head Suites and Potato Head Beach Club. They include a zero-waste seafood concept and a seed-to-stem plant-based restaurant. Guests are welcome to join daily back-of-house "Follow the Waste" tours to track the meticulous on-site recycling and reuse programs that end in Sweet Potato Lab, an R&D hub for creating stylish new products like jewelry from scraps of trash.
© Sentinel Aviation. Company No. 09400896. Vat No. 221163359.
All rights reserved. Created by AJA Design.