The Opulent Interior of our Boeing 767 Private Jet Charter
We recently welcomed a Boeing 767 private jet to the UK in readiness for one of our clients. We've always been astonished with the elegance and style of the interior, and wanted to share with you a few rarely seen photos. It is an interior that would grace any Homes & Gardens magazine!
Some Key Facts
Length of 28.7m, width of 3.45m
A range of 6,700nm
Average speed of 475 kts/860 km/h
Manufactured in 2001 and fully refurbished in 2020
A capacity of 51 (7 VVIP, 15 Executive, 29 Premium Economy)
A crew of 2 Pilots and 5 flight Attendants
Luggage of 300 standard suitcases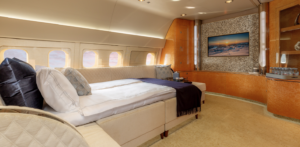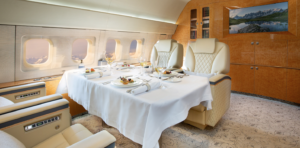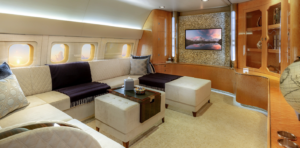 Designed for experienced VIP travellers the BBJ767 delivers top-end comfort and luxury, the latest in-flight connectivity, a new air purifying system via ionisation, all combined with long-range capability.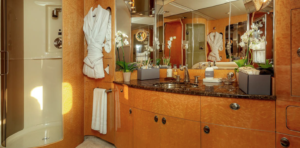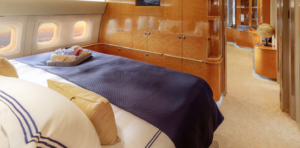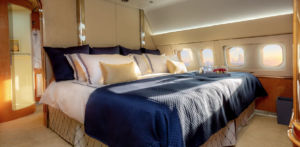 With its 177 m2 / 1900 ft2 of cabin floor area, the newly refurbished VIP cabin combines the benefits of the widebody aircraft – such as comfort, space, and privacy – to produce a consistently harmonious passenger experience. It is equipped with the latest and fastest in-flight 2KU band connectivity for high-speed internet and non-stop streaming for all passengers.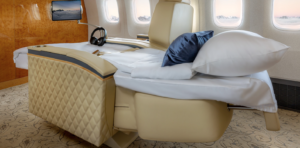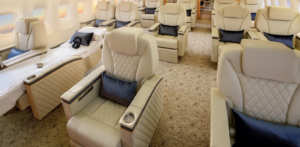 © Sentinel Aviation. Company No. 09400896. Vat No. 221163359.
All rights reserved. Created by AJA Design.