The Evolution of Ultra-luxury at Sea
Michael Wayne of the CEO Magazine – Reports
Experience unparalleled luxury at sea aboard the revolutionary new Scenic Eclipse II.
The luxury cruise industry is making a comeback by offering innovative, one-of-a-kind experiences at sea. One of the sector's pioneers, Scenic, is set to reinvent the wheel yet again with a six-star ultra-luxury breakthrough. Some of the highest benchmarks in ultra-luxury travel have been set at sea. Five-star hotels and high-end travelers alike often look to the ocean for the latest innovations in luxuriant accommodation. The ultra-luxury cruise sector in particular has done the lion's share when it comes to setting such an example, and a standout among that exclusive set is Scenic.
Since its inception nearly four decades ago, the Australian-founded company has been laser-focused on every detail of the guest experience. This has enabled Scenic to raise the standards of service, technology and all-inclusive ultra-luxury of the cruise industry to new heights.
Micro-innovations don't send shockwaves through the sector, but they do make ripples that over time become waves. Scenic's founders, Glen and Karen Moroney, have always believed that "true luxury is in the details", and it's these details that have shaped customer expectations and set what Scenic guests expect of a voyage on board Scenic Eclipse.
The Evolution of Ultra-luxury
Given the company's impressive resume when it comes to ultra-luxury cruises and its Discovery Yachts, it may come as a surprise to learn that Scenic first took to the water in 2006, when it began to charter ships along the waterways of Europe.
After running river ships in Europe's waterways for two years, Scenic's owner decided to make the radical move to bring its ship design in-house. Thus, Scenic was able to create a fleet of 13 Space-Ships in seven years, and made it much easier to implement changes and redesigns that came as a result of guest feedback.
Scenic Eclipse II is really built from the bottom up to operate in the most extreme environments in the world." – James Griffiths In fact, many of the innovations that set Scenic apart in the cruise industry have come from its customers. The introduction of Scenic's sun lounge on its Space-Ships in Europe, for instance, is exemplary of Scenic's dedication to opening up the world to its guests.
By combining sliding glass windows with guest balconies, Scenic provided a way for guests to enjoy Europe's historic cities and towns passing by their suites with the touch of a button, no matter the weather. Scenic's comprehensive range of on-board culinary experiences offer guests diversity of choice and round-the-clock dining in stark contrast to the usual cruise buffets.
A Commitment to Continuous Innovation
These improvements quickly set a formidable benchmark for Scenic's five-star luxury river cruises, but it was the advent of the Scenic Eclipse in 2018 that elevated the company into a class of its own. The list of features boasted by the six-star ultra-luxury Scenic Eclipse almost reads like a rebuke to an industry that had become very set in its ways and happy to embrace expectations.
For starters, its 114 sophisticated suites, each with personalized butler service, allows for only 228 guests, creating a close to 1:1 ratio of guests-to-staff and a sense of exclusivity that shatters any assumptions of thousands of fellow travelers crowding the deck.
Everything else comes together to maintain the truly all-inclusive six-star ultra-luxury experience Scenic has worked hard to pioneer. Scenic Eclipse II will be the newest and most modern ultra-luxury expedition ship operating in remote East Antarctica and the Ross Sea region." – Claudius Docekal
Scenic Eclipse is outfitted with a 550-meter-squared Senses Spa, featuring a full-bodied assortment of wellness treatments, including a dedicated Pilates and yoga studio; a specially designed marina for ease of boarding and accessing warm water activities; state-of-the-art GPS Dynamic Positioning, which spares sensitive seabeds from damaging anchor drops; and custom-built stabilizers to ensure greater stability and comfort.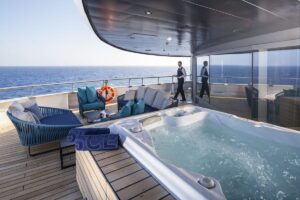 But a standout feature, and one that best encapsulates Scenic's sense of adventure, would have to be the range of elevated discovery options. While many cruises are known as floating hotels for a reason, Scenic Eclipse offers a truly amazing variety of ways for guests to explore beyond the bow.
Those looking to develop their sea legs can take a stand-up paddle board or kayak, or go exploring by Zodiac with the Scenic Discovery team, while a custom-designed submersible, Scenic Neptune, makes possible dives of up to 200 meters below deck for up to eight guests at a time.
To really get the most from Scenic's destinations, Scenic Eclipse includes two Airbus H130-T2 helicopters for air excursions. As exciting as it is to see the world from above, this option takes on a new dimension in the polar regions.
A Seagoing Triumph
Never wanting to waste an opportunity, Scenic's owners took the lessons learned from Scenic Eclipse's first three years at sea and poured them into the company's latest seagoing triumph – Scenic Eclipse II. This exciting new addition to the Scenic fleet will sail the seas of the Mediterranean, Arctic and Antarctic Peninsula before being based in the Southern Hemisphere. There, it will cruise the Kimberley, South Pacific and the seldom-explored East Antarctica and Ross Sea regions.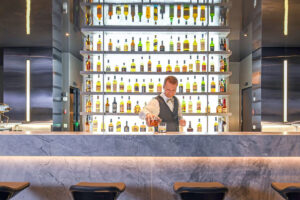 "Scenic Eclipse II will be the newest and most modern ultra-luxury expedition ship operating in these remote regions, setting the benchmark in providing once-in-a-lifetime journeys for our guests," says Claudius Docekal, Scenic's Vice President of Ocean Deployment.
"We've introduced these new voyages in response to the demand for exclusive destination experiences in the polar regions."
"She's able to go places that the absolute vast majority of cruise ships are unable to visit." – James Griffiths
Built to the very highest standards, Scenic Eclipse II is the latest realization of Scenic's vision of the ultimate ultra-luxury discovery and expedition ship. It is by design a Polar Class 6 vessel, meaning it can traverse the brisk waters of the poles with relative ease. This also makes an incredible 357 ports available to Scenic Eclipse II once it makes its inaugural journey from Lisbon to Barcelona in April 2023.
The ship's list of features, which eclipses even its predecessor, makes it one of the most innovative ships to sail the world's polar regions. The spirit of total inclusivity is alive and well from port to stern, meaning guests can achieve total relaxation knowing every element of their journey is in the most capable of hands.
"Scenic Eclipse II is really built from the bottom up to operate in the most extreme environments in the world and includes all the latest technologies available," says James Griffiths, Scenic's Vice President of Marine Operations and Captain of Scenic Eclipse II.
"She's able to go places that the absolute vast majority of cruise ships are unable to visit. She really is the ultimate ultra-luxury yacht to cruise in regions around the world."
A model of Scenic Eclipse II sits on a table in Griffiths's office, perched on a transparent stand. The Captain gazes at the gleaming hull, the miniature decks, the compact stern. He considers the tiny approximation of the bridge he'll soon make his workplace, and wonders what lies ahead.
© Sentinel Aviation. Company No. 09400896. Vat No. 221163359.
All rights reserved. Created by AJA Design.