The Debt-fuelled Ascent of Thomas Flohr's VistaJet
Dan McCrum from the FT – Reports
Lossmaking airline's founder has become an aviation superstar as his company amassed a fleet of luxury aircraft. To many, Thomas Flohr is a genius who took one look at the private jet industry and thought he could do better.
A self-described "asset finance guy", he started as a first-time jet owner trying to "sweat the asset" and VistaJet was born. Nineteen years later, with hundreds of aircraft, the 63-year-old is an aviation superstar taking on the market leader, Berkshire Hathaway's NetJets, through audacious dealmaking and bold investment.
The question mark hanging over the Swiss entrepreneur's strategy is whether Vista can turn a profit and support the debt he used to build it. Net losses amounted to $436mn over the past four years, according to company disclosures to bond investors. Total debt more than doubled last year to $4.4bn as Vista's fleet increased by half to 360 jets, helped by the acquisitions of Air Hamburg, Europe's largest charter operator, and US-based Jet Edge.
It has also spent billions of dollars on top-of-the-line planes from Bombardier, deliveries that were essential to the Canadian manufacturer through years of government-backed restructuring.
Vista's pitch to customers of its so-called Jet Card is a superior experience, without the inconvenience or expense of maintaining a luxury asset that spends most of its life on the ground. "We're able to sell a guaranteed-availability model," Flohr told the Financial Times at his Mayfair sales office, adding that the 365-days-a-year coverage "is better than aircraft ownership".
Vista's fleet is scattered around the globe like an elite taxi service ready to pick up the next fare. With as little as 24 hours' notice, customers can travel in one of the Dubai-based company's 18 Bombardier Global 7500s, the world's fastest business jet able to fly nonstop from Hong Kong to New York.
Subscription sales have supported cash flows. At the end of 2022, customers had paid a total of $831mn up front for hours yet to be flown, but Vista had only $134mn cash left in the bank, according to company disclosures.
The combination of debt, net losses and short-term liabilities prompted auditor EY to warn in its opinion on the 2022 accounts that "a material uncertainty exists that may cast significant doubt on the group's ability to continue as a going concern".
German aviation regulator the LBA also raised the issue of cash liquidity at Air Hamburg following the takeover at a regular inspection in March, according to people familiar with the situation. Vista said it had agreed a plan of action and resolved the matter by the end of the quarter. The LBA declined to comment.
EY's assessment, disclosed in a prospectus this month as Vista raised a new $500mn unsecured bond, echoed questions from some industry rivals about Flohr's rapid expansion. A crash under the weight of debt could potentially dump hundreds of jets on to the market, hand substantial losses to Vista's well-heeled customers and upend the market for aircraft finance. EY declined to comment.
Flohr said the business was highly profitable on an earnings before interest, tax, depreciation and amortisation basis, and that net losses were a consequence of conservative accounting of non-cash items such as depreciation.
Stakeholders were happy with Vista's cash flow and financial performance, he said, and pointed to Vista's B3 credit rating: "Moody's upgraded our bond, after deep studies, including the recent audit, because we're transparent and predictable as a company."
A B3 rating indicates debt judged "speculative" and subject to "high credit risk". Moody's changed its outlook on Vista to "positive" from "stable", reflecting potential for "performance and leverage improvements"; the rating reflected Vista's "strong position" in the industry, "significant contracted revenue from a diversified customer base; and high aircraft utilisation rates", balanced by Vista's "high leverage". On Moody's calculations, debt last year stood at 7.6 times adjusted ebitda of $576mn.
Uncharted territory
Vista's fortunes have been closely tied to those of Bombardier, which sold off units to focus on the business jet market after its 2016 state rescue, and the Canadian government's support of Vista's expansion.
Canada's Export Development Corporation finances up to 85 per cent of the net purchase price of Bombardier jets and is the largest lender on the Global 7500 aircraft. EDC disclosures indicate that it has lent between $500mn and $750mn to Vista.
"Vista were massively important," said a person involved in financing the aircraft manufacturer's sales. "They were the number-one customer for the longest time, they were probably one of the reasons why Bombardier decided to build the Global 7500."
Bombardier declined to comment on specific transactions. It said VistaJet was "a longtime Bombardier customer, and we are proud that the company operates a great number of Bombardier business aircraft in its fleet".
The 7500, and Vista's 43 aircraft capable of flying across the world, such as the Global 6000, are prestige planes. The charter operators with which it competes are primarily regional businesses and typically either manage aircraft for rich owners or buy second hand — cheap cast-offs acquired when oligarchs or executives at a big business decide to upgrade.
"It's a very high-, hard-cost industry. The money that is being made is on lean margins," said one US operator.
John Matthews, a longtime rival to Flohr who runs Maltese charter firm AirX, said jet customers could be surprisingly frugal, taking unfinished bottles of wine with them at the end of flights that cost more than $10,000 an hour. "Aside from people in tech and third-generation heirs, the world's super-rich are surprisingly cost-conscious," he added. "A lot of older billionaires worked bloody hard for their money."
US-focused NetJets flies new aircraft only on a "fractional ownership" basis. Customers, rather than the company, commit capital to buy the jets in return for a share in their use, and are locked into long-term contracts.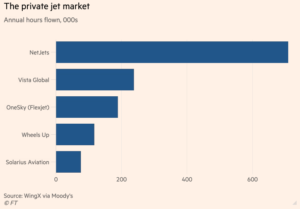 At this month's annual meeting for Berkshire Hathaway shareholders, chair Warren Buffett criticised Wheels Up, a US Jet Card competitor backed by Delta Air Lines that has reported widening losses since it listed in July 2021. "They've got 12,600 people who have given them $1bn . . . I think there's a good chance some people will be very disappointed later on," Buffett said. Wheels Up said it was "not considering bankruptcy", was taking action to address its cash position and the long-term prospects for its business were strong.
Vista's Jet Card customers sign three-year contracts that do not normally allow refunds. Last year the balance of "flight hours sold but not yet flown" increased by $179mn. Flohr said the variable cost to Vista of flying those hours was a small fraction of the $831mn liability recorded on its balance sheet.
His recent dealmaking, however, has made Vista more like a standard charter operator. It now manages 87 aircraft for owners, and more than half of Vista's $2.4bn of sales last year were "on demand" aircraft charters.
One broker who works with Vista said that "charter rates, especially for long-range aircraft, are through the floor. It's a race to the bottom."
Vista said it had always balanced its programme with charter sales, and that the ability to sell otherwise empty "dead legs" as jets move between jobs, or flights at times of slack demand, was "a strength of the business model".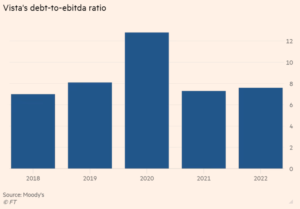 Flohr said Vista's takeovers last year were a response to very strong demand, and that the company starts the year with 100,000 hours already sold. "We're consolidating the market. Those hours were flown by the mom and pop shops, and they don't like it."
Several former employees praised Flohr's financial acumen. The group survived a period in 2017 when concerns about the outlook caused its bond debt to trade at distressed prices. Flohr secured a $200mn investment from New York-based private equity firm Rhône Capital at a $2.5bn-plus equity valuation that restored market confidence and marked him out as a billionaire.
Trading planes
Next month Flohr will drive for a Ferrari team at the Le Mans 24-hour race in a car emblazoned with the VistaJet logo, a hobby that helps market his company as an exclusive club for the super-rich.
He also lives the brand. To reach St Moritz, where he has a seven-storey home and keeps a collection of rally cars, Flohr lands in Milan on a silver VistaJet then transfers to the Alps in a company helicopter.
An unusual aspect of Vista's growth is Flohr's role as a middleman in its aircraft purchases. Bond prospectuses and annual accounts for Vista detail multiple related-party arrangements with companies controlled by Flohr that were involved in aircraft trading.
One effect of these transactions was to offset the cost of personal use of the jets by Flohr, who as chair and 84 per cent shareholder has not taken any salary or dividends and pays for his own travel — Vista recorded an average $7mn of annual flight revenue from its founder over the past six years.
For instance, Flohr personally ordered more than 30 Global 7500s from Bombardier in 2015. In 2018 he then sold call options against 30 aircraft to an entity called Vista Lease, for $19.5mn. Vista Lease was then purchased from "associates of Flohr" by Vista Global, the airline holding company.
Terms of the Vista Lease purchase entitled Flohr to $1mn each time Vista exercised one of the 30 options and further "true up" payments of $7.1mn to $12.6mn per plane to reflect a rise in the value of the aircraft since the orders were placed. Vista disclosures indicate the initial purchase price of each jet was about $60mn.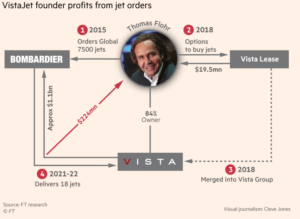 Vista, and its supporters, said Flohr took a big personal risk by placing firm orders for aircraft when his company did not have the resources to do so, and that Rhône Capital approved all related-party transactions. Money flowed in both directions: Flohr paid Vista $90mn over 2021 and 2022 for the cancellation of aircraft put options, recorded as "other operating income". Rhône Capital declined to comment.
The use of outside entities owned by Flohr was questioned by some former Vista employees, who spoke on the condition of anonymity. "Why not just consolidate everything?" asked one.
For the 18 Global 7500s delivered in the past two years, Vista disclosed that included in the cost of the aircraft was $224mn "paid or credited" to Flohr. The remaining 12 options were cancelled. In 2021 Flohr also sold two aircraft to Vista, for $93.2mn, which he had previously leased to the company.
A Global 7500 is worth about $75mn today, said Steve Varsano, founder of The Jet Business, a business aviation showroom in London, but he cautioned that prices could drop should there be an influx of supply. "If you have 12 Global 6000s for sale and all of a sudden you have five come on the market, that's a big deal." He said there were only four or five Global 7500s available. "It's the top, top of the market. It gets pretty thin up in the atmosphere up there."
Flohr insisted that "if the company bought an aeroplane from me, then they paid the market price for it . . . Whatever I have given the company or the company has given to me is never more than the difference between cost and market value.
"For 19 years I've never taken $1 for salary. No wonder I've reinvested every single dollar this company made."
Additional reporting by Robert Smith in London and Eric Platt in New York
© Sentinel Aviation. Company No. 09400896. Vat No. 221163359.
All rights reserved. Created by AJA Design.