The 5 Fastest Private Jets Money Can Buy
Private jets offer a level of convenience and luxury the average commercial traveler can't even imagine, let alone dream of, but they also offer quite a bit of something else – speed. There are a lot of private jets out there, but here are the five fastest, just in case you're in the market for one, and you're in a hurry to get across the globe as quickly as possible.
5: Gulfstream G550 – Mach 0.885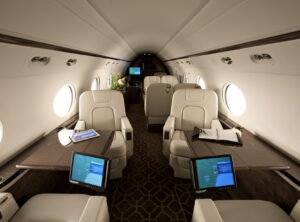 The Gulfstream G550 has a price tag of $53.5 million, can travel 6,750 nautical miles in between fueling, fly at an altitude of more than 42,000 feet, comfortably fit 19 passengers – eight if they're going to need room to sleep. But it's on this list for its top speed of Mach 0.885, making it the fifth-fastest private jet currently available in the marketplace.
4: Bombardier Global 6000 – Mach 0.89
Just a little bit faster, though, is the Mach 0.89 (in its "Global Express" cruising mode) Bombardier Global 6000. For proof that speed isn't everything in the world of private jets, however, just take a look at how it compares to the G550 in terms of price: It's almost $10 million cheaper, at $45 million.
3: Dassault Falcon 7X – Mach 0.9
A couple of years ago, the Dassault Falcon 7X made a record-breaking flight from New York City to London in less than six hours (it normally takes at least an hour longer than that, under normal circumstances). Its top speed is listed as Mach 0.9, and owning one will cost you $52.5 million.
2: Gulfstream G650/G500 – Mach 0.925
Here we have a two-way tie for second place, since both the Gulfstream G650 and the smaller Gulfstream G500 both boast a top speed of Mach 0.925. The bigger model is available now for $65 million, depending on how you define "now," since it has also reported a three-year waiting list. The G500, on the other hand, will be on its way soon.
1: Cessna Citation X+ – Mach 0.935
The fastest private jet available to the public for purchase is a Cessna, which may come as a surprise, since the brand isn't known for speed, despite its high level of name recognition. Actually, though, the Citation X model was first introduced 20 years ago to counter that perception, and the latest to carry the name has a top speed of Mach 0.935, making it the fastest on this list. Interestingly, at $22 million a pop, it's also the cheapest.
© Sentinel Aviation. Company No. 09400896. Vat No. 221163359.
All rights reserved. Created by AJA Design.