Sentinel Aviation Top Ten Picks for Wellness Travel Destinations
The team at Sentinel Aviation were recently chatting about their holiday plans for the year and next. It suddenly struck us all (young and old!) that our ideas and dreams of the ultimate holiday have totally changed! The action packed, food and drink fuelled destinations have been replaced with trips rooted in relaxation, self-improvement and mental wellbeing. And therapy offerings don't have to be boring. The newly opened Aman New York offers you a a cognitive health scan by day, and dining on some stellar Italian food and then a show at the hotel's jazz club at night.
So we all went away and researched/reviewed a variety of national and international wellness destinations and concepts.
We'd like to share with you our Top Ten Favourites.
1/ Hiking Trails around Europe
Conde Nast Traveler report on the top seven prettiest spots to go hiking, and we chose the one from England:
The South West Coast Path, England: Cornwall has an unusual microclimate that means there are many more sunny days in October and November than you would expect. The South West Coast Path runs for 630 miles from Minehead in Somerset along the coastlines of Exmoor, North Devon, and Cornwall, before crossing the mouth of the River Tamar where it enters Devon and crosses part of Dorset before ending in Poole Harbour. The route was originally created when patrols kept watch for smugglers. The area has been inhabited, however, since the Iron Age, and a number of important archaeological sites can be found along the path, as well as breathtaking views.
To review all of those selected by CN Traveller, please click here.
2/ Soak, Steam, Sweat and Socialise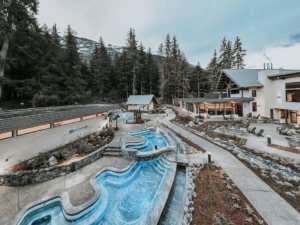 Scandinavians believe stress melts away faster if you socialise while sweating. The rest of the world is catching on by building sauna and hydrotherapy complexes with restaurants, bars, and even live music.
Alyeska Resort's Nordic Spa in Alaska is the newest 'go-to destination to seek refuge from the demands of the modern world'. It features a pool circuit of steamy 103-degree pools and polar plunges, a Himalayan rock salt sauna, Russian banyas, and cedar soaking tubs and barrel saunas; open until 9pm with an onsite bar and restaurant, it's certain to be this winter's hottest après ski scene. As they say: "Hot. Cold. Rest. Repeat!" Click here to visit the hotel's website.
3/ Wild Swimming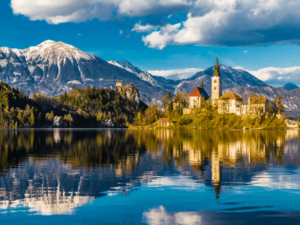 The health benefits of cold water swimming have long been suspected, from Victorians gathering in their bathing machines to the lido boom of the early twentieth century. Now science is starting to back up the anecdotal evidence with studies that suggest that there are lasting positive effects of a bracing outdoor dip.
Our favourite was a Slovenian Lake Swimming Holiday. Slovenia doesn't have much coastline, but it does boast spectacular green, glacial lakes and meandering rivers — backdropped dramatically by soaring forested mountains. It's hard to imagine a more pristine setting for a four-day group swimming break, taking you from the shores of famed Lake Bled, with its utterly photogenic island church (you'll swim there), to the frothy Kozjak waterfall for an unconventional cooldown. On the last day, you'll tackle a swim across Lake Bohinj, a glassy expanse with crystalline waters.
4/ Hot Spring Spas and Resorts
There were a number of great hot springs, a lot of them concentrated in the American West, and our favourite was Quinn's Hot Springs in Montana.
They have five 100% natural flow through hot springs pools offering a variety of inviting temperatures that range from 100 to 106 degrees Fahrenheit, including a cold plunge at 55 degrees. Two additional pools that are salt treated and maintained in the upper 90's to 100 degrees to allow swimmers of all ages. Natural springs like these offer a range of health and heart benefits. Click here to visit the hotel's website.
5/ Forest Bathing

Yes, it's such a thing, and it's big in Japan, even recognised by the Japanese government. Known as 'shinrin-yoku', it rejuvenates mind, body and soul – decreases stress, natural mood elevation and even a stronger immune system. Our favourite was Keihoku, northern Kyoto. In this northern part of Kyoto you will find Japanese cedars and cypresses and an air of serenity, with glimpses of mountains beyond. This area is just over an hour out of town, and still considered part of Kyoto city. A tranquil woodland in a stunning mountainous region it's a great place for a farm stay or back to nature exploring.We found this excellent website with more information.
6/ High-Tech Wellness Retreats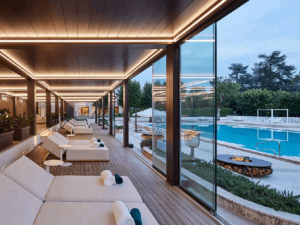 Palazzo Fiuggi in Italy was the best by far. The week-long Complete Life Rewind programme at Palazzo Fiuggi – a beautiful building set within expansive private grounds overlooking the mediaeval Italian spa town of Fiuggi – combines a multitude of tests, treatments and therapies to achieve just that. Visit the hotel's website.
7/ Mindful Movement

The modern mantra, "sitting is the new smoking," has made many wellness experts rethink the traditional path to mindfulness: stillness. The latest meditative activities are set in movement.
In the Maldives, the wellness retreat Joali Being has even made the sound bathing experience a walking journey through a jungle path lined with 12 instruments that create different vibrations. Visit the hotel's website.
8/ Arts and Crafts

Sounds a little odd, but silent meditation sessions aren't the only pathway to mindfulness. More spa resorts are challenging guests to be in the present by working the right side of their brains in fresh ways.
Atelier d'Artiste, a new glass-panelled artist studio at Royal Mansour, a grand riad hotel in Marrakech, offers guests the opportunity to be tutored in pottery, weaving, beading, and more by top master craftsmen. You may roll your eyes, but two screen-free hours spent crafting Berber-inspired necklaces rivals the relaxation you feel after a yoga class. To visit the hotel's website please click here.
9/ Restore and Recover

In Napa Valley, the restoration and recovery circuit at Springhouse at Stanly Ranch, an Auberge Resort Collection, can cure everything from hiking-weary muscles to a hangover with therapies like a hyperbaric oxygen chamber and lymphatic system-supporting salt room. To visit the resort's website please click here.
10/ Family Wellness

Easier said than done, but you shouldn't need to separate family holidays with dedicating time for your personal wellbeing. From building family bonds through mindful or sporty activities, such as surfing and hiking, to finding a dedicated wellness retreat that welcomes children of all ages, we loved the retreat at Palmaia in Mexico. It's a transformative retreat that encourages you to discover wellness through its progressive and unique all-inclusive programmes and meaningful experiences. Within the resort's holistic approach is Awen, a nurturing space where children can explore creativity, spirituality, and curiosity. To visit the retreat's website please click here.
We hope you have enjoyed our selection of Wellness Travel Destinations. Why don't you begin your wellness journey with Sentinel Aviation. What better way to start and finish with a private jet charter? If you have a wellness trip in mind, our team are waiting to hear from you. Contact us to learn more about our private air charter service.
© Sentinel Aviation. Company No. 09400896. Vat No. 221163359.
All rights reserved. Created by AJA Design.