Sentinel private jet charter departs Farnborough
Another successful Sentinel Aviation private jet charter has departed from Farnborough.
The Airbus Corporate Jet is the A320neo. With a cruising speed of 840kmh (522mph) and a range of 6300km (3400nm, the NEO (New Engine Option)is the latest upgrade introduced by Airbus. The new advanced engines provide outstanding operational and environmental performance, while the new wingtips (Airbus call them Sharklets) alone reduce fuel burn by 4% – that equates to an annual reduction of about 900 tonnes of CO2 emissions.
And the interior is quite stunning.
Quality and luxury
Whether travelling for pleasure or on business, from the moment you join us on board you can expect an unrivalled experience for up to 12 hours flight time.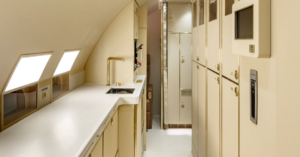 Attention to detail
The elegant and spacious interior features an exquisite blend of furniture, materials, fittings and mood lighting evokes a sense of wellbeing whilst the palette of warm browns and soft beiges sets a new standard in terms of luxury, quality and comfort.
Stay connected inflight through our 19 individual iPads and four large TV screens in the cabin.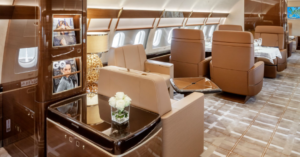 Space and comfort
The ACJ320neo redefines large cabin corporate jet standards into the 2020s. The spaces onboard include an open-plan forward lounge and an intimate rear lounge, separated by a mid-cabin conference/dining area.
At the rear of the aircraft is a private master bedroom with a king-size bed, as well as a luxurious en-suite bathroom featuring a large rectangular shower. The perfect space for 19 passengers to move about the cabin freely, arriving refreshed and relaxed at their destination.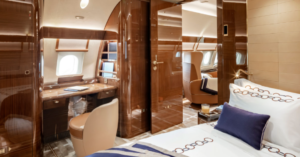 Entertain in style
A full galley enables our cabin crew to offer freshly prepared meals in flight. Whether you prefer an intimate dinner or want to entertain guests with a banquet-style meal, our menus guarantee that only the finest locally sourced ingredients are used.
As always, a big thank you to all involved. There's lots of variables when organising an all-encompassing private jet charter service, whatever the size of the plane – from crewing and logistics to communication and meticulous planning; and all with the utmost discretion expected of us by our valued clients!
If you're planning a business trip, why not let Sentinel Aviation help you get there.
Our private charter team will ensure a seamless door-to-door service, meticulously planned and overseen from inception until well after landing.
© Sentinel Aviation. Company No. 09400896. Vat No. 221163359.
All rights reserved. Created by AJA Design.