The Dassault Falcon 10X, the 'Penthouse of the Skies'
Pete Syme,Taylor Rains from Business Insider – Reports
French firm Dassault brought a super-luxurious $75 million model of its Falcon 10X private jet to the Paris Air Show.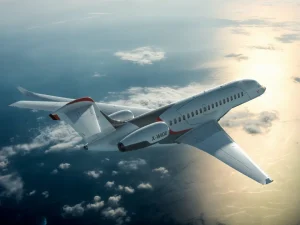 Dassault Aviation's new Falcon 10X private jet.© Dassault Aviation – Droits Réservés
It's not due to go into service until 2025, but the cabin tour showed just how luxurious it'll be. With a shower onboard and a 6 feet 8 inches tall cabin, it's nicknamed "the penthouse of the skies."
Dassault brought a model of its upcoming Falcon 10X private jet to the Paris Air Show. Here's what the $75 million Dassault Falcon 10X will look like when it does take to the skies.
As an ultra-long-range jet which can travel 7,500 miles with a top speed of Mach .925 (around 710 miles-per-hour), it is competing with the likes of the Bombardier Global 7500 and Gulfstream G700. But the Falcon 10X's cabin is its greatest asset — at 6 feet 8 inches tall, it has an extra 5 inches on the G700.
Starting in the rear, the bathroom is bigger than in some apartments.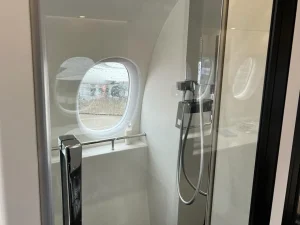 Pete Syme/Insider
It even includes a shower — a rarity only found on the most lavish private jets. It's a big shower too, with a space to sit down and check out the view.
The marble floor adds to the luxury, with a toilet that would look more at home in a hotel than a plane.

Pete Syme/Insider
Moving into the bedroom, the 9 feet 1 inch wide cabin leaves plenty of room.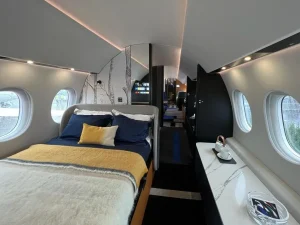 Pete Syme/Insider
The cosy-looking bed would be a necessity for ultra-rich clients on long-haul flights – and looks even more comfortable than business class.

Pete Syme/Insider
Dassault kitted out this cabin with a television at the foot of the bed too — but there's a bigger screen coming up as well.
The next section was dedicated to watching TV.
With this nice little couch opposite, including some storage areas underneath to maximize the use of space.
© Sentinel Aviation. Company No. 09400896. Vat No. 221163359.
All rights reserved. Created by AJA Design.