How to spend King Charles III's Coronation Weekend
Karen Gilchrist at CNBC Travel – Reports
Britain is gearing up for days of pomp and pageantry in early May as its new monarch is crowned in a coronation ceremony not seen in the country for 70 years. Millions of people are expected to travel to and around the United Kingdom to witness the coronation of King Charles III and Queen Camilla at Westminster Abbey on May 6 — the first part of a three-day celebration culminating in a public holiday on May 8.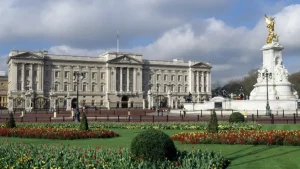 Image Courtesy of Dea / W. Buss | De Agostini | Getty Images
Travel enquiries for the U.K. rose 90% year on year in the first quarter of 2023 as more people sought to plan visits to Britain, according to data from travel company Red Savannah. The king has pledged a more scaled-back affair than that celebrated by his mother, the late Queen Elizabeth II, in 1953. Still, the historic occasion will be marked with regal events across London and up and down the country.
Here's CNBC Travel's top picks for how to spend the coronation weekend.
Watch the ceremonial procession
The coronation will take place at Westminster Abbey on May 6 in a service conducted by the Archbishop of Canterbury.
Entrance to the ceremony is by invitation only, and will be limited to some 2,000 family, friends, heads of state and VIPs. But the service will be broadcast live and viewable on big screens at a number of public venues across the U.K.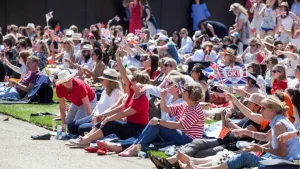 Image Courtesy of Joel Ford | Afp | Getty Images
Members of the public will also be able to gather on the streets of Westminster to watch "The King's Procession." Starting at Buckingham Palace, it will pass along The Mall, Admiralty Arch, King Charles I Island, Whitehall, Parliament Street, Parliament Square, and Broad Sanctuary, before finishing at Westminster Abbey. After the service, the newly coronated king and queen will undertake a larger ceremonial procession, which will follow the same route in reverse and feature other members of the Royal Family, before making a final appearance on the balcony of Buckingham Palace.
Spend the night like royalty
Several hotels in London have special coronation packages for those who fancy spending a night like royalty over the celebratory period.
Hotel Cafe Royal in Piccadilly is providing a "Crown Jewels Experience," where for £12,995 ($16,135) guests can enjoy a visit to the Tower of London in a chauffeur-driven limousine and a private viewing of the crown jewels, as well as a night in the hotel's two-bedroom royal suite and an in-suite breakfast.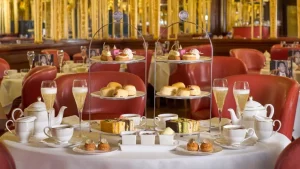 Image Courtesy of Hotel Cafe Royal
For £2,345, Dukes London's is offering a two-night stay in an executive room, as well as breakfast with Exmoor caviar and champagne, traditional cream tea, four-course dinner, as part of its "Royal Connoisseur Experience." And at the Strand Palace, guests can "Stay Like A King" for $845, with a two-night stay, buffet breakfast, and complimentary minibar and a bottle of champagne.
Elsewhere, Four Seasons' "Town and Country" package provides a two-night stay in its Mayfair location, before guests are whisked away to the countryside for a further two nights at Four Seasons Hampshire, complete with afternoon tea and an equestrian experience at the on-site stables.
Discover London's regal sights
Visitors to London can also take in its regal history with a tour of the capital's major royal sights.
Starting at Buckingham Palace — the official residence of the U.K.'s sovereign since 1837 — tourists can watch the Changing of the Guard ceremony, before exploring the Queen's Gallery and the Household Cavalry Museum.
Nearby, Westminster Abbey, Kensington Palace — once home to Princess Diana — and the Tower of London all offer opportunities to explore the grandeur of Britain's monarchy over the centuries.
Meanwhile, on the outskirts of London, tourists can also visit Hampton Court, Henry VIII's favored royal residence, and Windsor Castle, the final resting place of the Queen Elizabeth.
Picnic in the Royal Parks
London's Royal Parks offer a more low-key way to absorb the royal atmosphere over the coronation weekend. Kensington Palace Gardens, Regent's, Green, Hyde and St James's parks are lush havens within the hustle and bustle of central London.
The latter three will host the procession and coronation service on big screens, presenting an opportunity to join the celebrations with a picnic. Slightly further out, Richmond, Greenwich and Bushy parks all offer wide open spaces to enjoy the weekend's festivities.
Explore Britain's famous castles
For a more extensive overview of Britain's royal landmarks, holidaymakers can set out on a tour of England's regal castles. Highgrove Estate, country home of the king and queen consort, Sandringham House, the royal family's Norfolk residence, and Holkham Hall are some a number of regal residences and gardens open to tours, though some opening times will vary over the coronation weekend.
Further afield in Scotland, the public can visit the Palace of Holyroodhouse, the King's official residence in Edinburgh, Balmoral Castle, the royal family's Scottish residence, or take a tour of the Royal Yacht Britannia.
Rock out in Windsor Gardens
A live coronation concert will be held at Windsor Castle on May 7, with tickets 10,000 made available to the public via a ballot.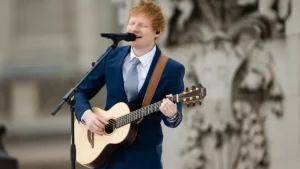 Image Courtesy of Samir Hussein | Wireimage | Getty Images
While a number of high profile musicians including Elton John, Adele and Harry Styles have reportedly turned down invitations to perform, the concert is expected to feature appearances from Katy Perry, Lionel Richie and Andrea Bocelli, as well as a series of dance, art and orchestral performances.
Hosted by Britain's public broadcaster the BBC, the concert will also be broadcast live to viewers across the country.
Celebrate with a street party
Local communities will also host a series of smaller events and street parties throughout the weekend, with people encouraged to share a meal with their neighbors at a coronation Big Lunch on May 7. Don't fret if you don't have a neighborhood party to attend. A number of businesses will be holding public events with food stalls and live performances, including London's Grosvenor Square and Battersea Power Station.
On May 8, people are also invited to engage in voluntary projects in their local areas as part of The Big Help Out charity program.
© Sentinel Aviation. Company No. 09400896. Vat No. 221163359.
All rights reserved. Created by AJA Design.