Rolls-Royce Unveils the $30 million La Rose Noire Droptail
Ian Douglas from Spears Wealth – Reports
Rolls-Royce unveils the La Rose Noire Droptail, the first completed car in the third project from Rolls-Royce's ultra-exclusive Coachbuild division – and, with a price tag rumoured to be more than $30 million – the world's most expensive car.
It has been passed to its commissioning client family at a private event near Pebble Beach, demonstrating the carmaker's commitment to bespoke design and private client service.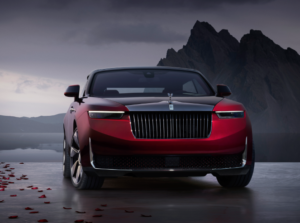 The car – the first of the four individually designed and built models that will comprise the Droptail project, each in their own unique colours and finishes – has been in development since 2020 and has benefited from an unprecedented level of involvement from the buyer. The client's identity has been kept confidential but they are rumoured to be a billionaire French family.
A unique blend of deep reds
Prior to its handover, the car was demonstrated to select members of the press including Spear's at the Rolls-Royce factory in Goodwood. It is a blend of two deep reds with dark chrome brightwork that has never before been used before, nor will it be used again, on any series model.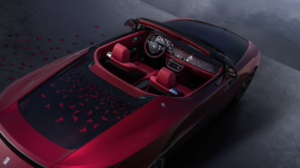 The colour was taken from the favourite rose of the matriarch of the family – the black baccara, a black-red tea rose with a high level of variation of colour – and decorated with roses in details around the car. As with the rose, the car appears to be different shades of red or black depending on the angle from which it is viewed, achieving an effect of dark iridescence.
The sweeping curved marquetry wooden panels alone took almost two years to design, develop and make. A dedicated artisan spent months doing nothing else but cut, colour, shape and finish the 1,603 carefully selected slivers of wood to achieve the desired effect of abstract rose petals scattered over a French sandalwood background.
Uniquely for a Rolls-Royce the dashboard has no clock. Instead it has an automated retractable holder for a watch, developed by Audemars Piguet, that can be worn when out of the car.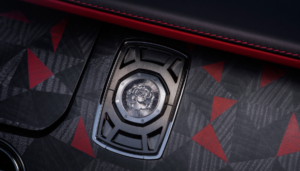 The roof is a detachable hard unit with an electronic chromatic panel, allowing it to be opaque or transparent according to the wishes of the occupants.
The engine is the V12 unit used in other cars including the Wraith and the Ghost, tuned to achieve the livelier performance of a drophead roadster.
The Coachbuild programme represents the finest cars that the company produces, with the client as a co-creator rather than simply a client. Rolls-Royce offers a high level of customisation on all of its cars through what it calls its Bespoke programme, but the Coachbuild cars are separated from the models offered to the rest of the public.
As a spokesperson said, 'It's the most rare, the most valuable, the most exquisite thing that we do here.'
© Sentinel Aviation. Company No. 09400896. Vat No. 221163359.
All rights reserved. Created by AJA Design.