Jet Aviation Brings Art Deco to the ACJ
Kerry Lynch from AINonline – Reports
Jet Aviation recently handed over an Airbus ACJ319neo with a hand-crafted contemporary Art Deco interior. Installed at its facility in Basel, Switzerland, Jet Aviation said the interior was created through a close collaboration between its design studio, the undisclosed customer, and interior architect Colin Radcliffe.
The interior sports a monochrome palette with dark woods and tiling that is contrasted with beige and gold upholstery finishes. Jet Aviation incorporated complete details such as a bulk designed with a "sunburst" marquetry that features more than 180 "rays" of light and dark veneers and is separated by three-millimeter brass inlays. Jet Aviation noted that each piece was individually hand placed and manipulated for a seamless finish.
"Every interior we create is completely bespoke, hand-crafted by our team of some 200 skilled artisans in Basel, Switzerland," says Christoph Fondalinski, v-p of completions at Jet Aviation. "This particular design featured incredibly beautiful and complex detailing throughout, such as the statement 'sunburst' veneer marquetry bulkhead in the living area, delicate open-pore walnut veneer, and a custom-dyed ombre carpet."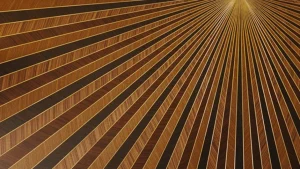 The cabin was designed with living and dining space fitted with "wingback" seating and sofa areas, a separate office with embroidered wall finishings, and an ensuite bedroom with a bathroom styled in golden black marble and beige onyx.
Images courtesy of Jet Aviation
© Sentinel Aviation. Company No. 09400896. Vat No. 221163359.
All rights reserved. Created by AJA Design.