Fly Private with Sentinel Aviation for Fur, Feather & Fin!
Sentinel Aviation provides a discreet private jet charter and aircraft management service for the discerning traveller. The company's founder is Roland Dangerfield, a former Army Officer and passionate Field Sportsman, who fishes and shoots regularly in Scotland. One of our specialist areas is a 'flights only' private jet and helicopter charter service for Field Sports men and women pursuing 'fur, feather and fin' within the UK, Europe and of course internationally, organising some mouth watering rural excursions.
La Dormida Lodge in Argentina
The Lodge offers world-class dove shooting. It is the perfect blend of world-class shooting, combined with the finest amenities in a contemporary, yet elegant, setting. An ideal venue for small groups, both corporate as well as family and friends, who are looking for a relaxing, private escape.
In the field, you will experience captivating dove flights, paired with opulent field lunches served under the shade of a canvas tent or one of our authentic thatched roof quinchos. Back at the lodge, you will experience exquisitely prepared meals, paired with some of the best wines Argentina has to offer.
Fly from Farnborough Airport to Cordoba
Flight Time: 13hrs 15mins Direct
Passenger Numbers: 6-8 (to allow for flat beds)
Recommended Aircraft: Global 7500/Gulfstream G650ER/Falcon 8X
La Cuesta De La Borracha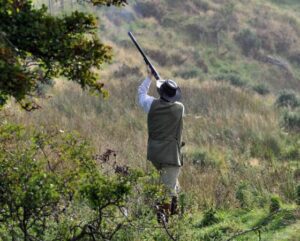 Situated in La Mancha, Spain and is regarded by many as the best partridge shoot for consistently showing high testing partridges over a wide range of countryside from open plains to mountains.
The key ingredient for its success is the strength, age and health of the birds, due to the sound husbandry and Spanish sunshine.
The season runs from the 1st October to the 6th March. October and early November is perhaps the perfect time to shoot as there is a natural lull between the end of the grouse season and the start of the pheasant season.
Fly from Farnborough Airport to the private runway at La Cuesta or Albacete
Flight Time: 2hrs 20mins
Passenger Numbers: 4/6/8
Recommended Aircraft: King Air/Citation CJ2+/Citation XLS
The River Alta in Norway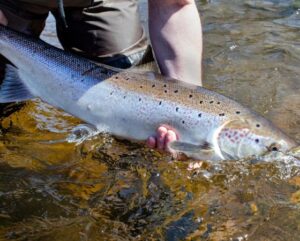 One of the world's best salmon rivers. It is internationally known for both the size of the salmon and the beauty of the surrounding scenery. Along with over 400 other Norwegian rivers, the numbers of salmon running these rivers is a very significant part of the worldwide stock of Atlantic salmon.
Norwegian salmon fishing is a fantastic experience. Being so far north, fishing days can be long with almost 24 hours of daylight in midsummer. It has a well deserved reputation as a BIG fish country and every year lucky anglers beat their personal record by catching fish of 30lb's plus with some real monsters hooked and lost..!
Fly from Farnborough Airport to Alta Airport
Flight Time: 3hrs 40mins
Passenger Numbers: 4/6/8
Recommended Aircraft: Phenom 300/Citation Sovereign/Challenger 350
Invercauld Estate in Scotland
The Estate has been under the stewardship of the Farquharson family since the early 1500's, and covers approximately 95,000 acres of the Cairngorms National Park.
Country sports are a feature of highland life from shooting red grouse and stalking red deer to fishing for salmon and sea trout on the River Dee. There are four shooting and stalking beats with various levels of physical challenge according to the terrain. The Estate covers five very different types of terrain from montane and moorland through woodland to the valley floor and the riparian area along the Estate's four main rivers.
Fly from Farnborough Airport to Aberdeen Airport
Flight Time: 1hr 15mins
Passenger Numbers: 4/6/8/10
Recommended Aircraft: Hondajet/PC12/King Air/Legacy 600
The East Ranga in Iceland
One of the most productive Atlantic salmon rivers in the world. With an average annual catch of over 4,000 salmon the river is quite extraordinary, even by high Icelandic standards.
It is often referred to as being the 'perfect size' – large enough to be interesting and inspiring, but small enough to cover most holding spots well with a 12-14ft double handed rod or indeed a switch or single handed rod in many cases.
While the East Ranga is famous for its productivity, an interesting note is the steady growth in numbers of multi sea winter salmon. These fish have an average weight of 14lbs and offer terrific sport throughout the season.
Fly from Farnborough Airport to Reykjavik Airport
Flight Time: 3hrs
Passenger Numbers: 8
Recommended Aircraft: Citation XLS+/Learjet 45/PC 24
Ulaanbaatar in Mongolia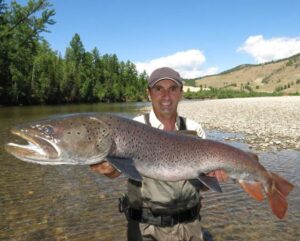 One of the world's true wildernesses and famed for its taimen fishing.
Taimen are the world's largest species of salmon and are ferocious predators. If you enjoy the challenge of interacting with extremely big fish in beautiful places, there's absolutely nothing more fascinating than fly-fishing for taimen on the Eg River and the Ur River in north-central Mongolia. Both rivers are a fly fisherman's dream. They are clear and easy to wade – even the banks are easy walking – and range in size from 40 to 120 feet wide.
Fly from Farnborough Airport to Ulaanbaatar Airport
Flight Time: 8hrs 15mins
Passenger Numbers: 8
Recommended Aircraft: Global 5000/Falcon 7X/Gulfstream 550
© Sentinel Aviation. Company No. 09400896. Vat No. 221163359.
All rights reserved. Created by AJA Design.