Archer's Electric Air Taxis Will Fly Over Delhi in 2026
Michael Verdon from Robb Report – Reports
The California-based company's plan to establish an air-taxi network in India is part of a growing effort by US eVTOL makers to expand beyond their own borders.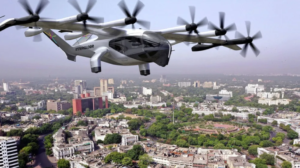 Credit to Archer Aviation
A fleet of electric air taxis from California will be cruising above the crowded streets of Delhi, India, in 2026, according to an agreement signed between Archer Aviation and India's InterGlobe travel conglomerate. This announcement is the latest from a number of U.S. eVTOL manufacturers, including Wisk, Joby and Beta, that plan to expand beyond North America. Archer's memorandum of understanding with Delhi-based InterGlobe allows for the purchase of up to 200 four-passenger Archer Midnight eVTOLs, with plans to build vertiport infrastructures in that area. One of InterGlobe's "taxi routes" is a 20-mile flight from Connaught Place to Gurugram in seven minutes, a car trip that typically takes about 69 to 90 minutes.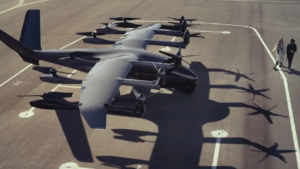 Credit to Archer Aviation
"India is one of the largest, if not the largest opportunity for eVTOL aircraft utilization in the world, as it is home to the world's largest population of over 1.4 billion people," said Adam Goldstein, Archer CEO in a statement. "Its largest cities face some of the greatest congestion challenges in the world."
Archer also announced its Midnight would make its public debut at the Dubai Airshow from 13 to 17 November, as part of its plans to bring electric air taxis to the UAE in 2026. The initiative is funded by the Abu Dhabi Investment Office. An Archer statement said its presence in Dubai would give local executives and the royal family a chance to sit inside the Midnight. There will be no flight demonstrations at Dubai, unlike its German competitor, Volocopter, which has flown its two-passenger Volocity at the Paris Air Show and last month's NBAA BACE event in Las Vegas.

Credit to Archer Aviation
Archer's competitors are also looking outside of North America. California-based Wisk Aero plans to partner with Japan airlines towards launching fleet operations for Wisk's sixth-generation air taxi, while Vermont-based BETA said in March that the UAE has granted United Parcel Service a licence to test BETA's cargo aircraft in that country.
Joby, meanwhile, has announced plans to develop networks in the UK, Korea and Japan. It received a $100 million (£82 million) equity investment from SK Telecom, and the two have announced test flights next year in Korea, with the goal of developing that country's urban air mobility sector. In Japan, Joby has applied for a type certification for its electric air taxi. Joby and ANA Holdings will also operate flights of its aircraft at Expo 2025 in Osaka, Japan. Toyota is Joby's largest single shareholder, having invested $400 million (£328 million) in the company.
Joby and Archer will also be part of Abu Dhabi's Smart and Autonomous Vehicles Industry (SAVI) cluster in Masdar City. Archer intends to gain FAA approval for its Midnight by 2025. Its just-announced partnership with BETA to develop a fast-charging battery network on both coasts could allow for faster expansion for both firms, with BETA gaining access to Archer's charging stations on the west coast, and Archer being able to use BETA's network on the east coast. "A fast-charging system is critical to ensuring electric air taxis reach scale in the coming years," said Goldstein in a statement.
© Sentinel Aviation. Company No. 09400896. Vat No. 221163359.
All rights reserved. Created by AJA Design.