An Absolute Dream Interior for This Boeing 787 Dreamliner
Izzy Kington from Business Jet Interiors – Reports
Showcased with a full set of stunning images, feast your eyes on Concept Haven by Natalie Rodríguez Luxury Design.
This B787-8 design, Concept Haven, was created by Natalie Rodríguez Luxury Design for a client. Focusing on symmetry and residential design, features include simulated fireplaces. "This customer favours an open layout targeted for large group entertainment, mixology and culinary arts," says Natalie Rodríguez.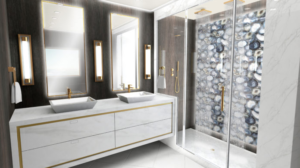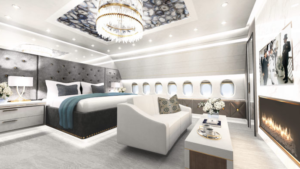 The VIP lounge's two seating groups are separated by a Carrara marble veneer column accented with high-gloss walnut. There are four coffee tables, clad in white ostrich leather with gold and high-gloss walnut inserts; four three-place divans and four single seats.
The eight-place dining area is separated from the lounge by bi-fold doors that close fully for privacy or pivot and recess into integrated sidewall pockets to provide an open layout.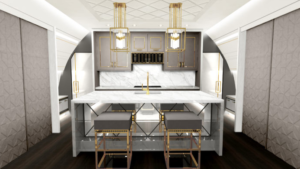 Serving as a mid galley, the show kitchen features refrigeration hidden behind shaker millwork-inspired doors in the lower cabinets, and a free-standing island bar with Carrara marble footstool. Mirrored panels are configured in a diamond pattern, with two lantern-style pendants overhead – residential-inspired elements that required special consideration for aircraft use. "These fixtures feature frosted tubes housing LED light sources," says Rodríguez. "Instead of the chains used to suspend residential chandeliers, slender, plated support structures connect the lantern to the canopy to prevent movement during TT&L. The cascading frosted diffusers are interconnected for stability, and fastened to the framework, which is X-braced with thin tensioned wires to further control movement during ground operations. The same model is applied in the master bedroom, except for the tension wires since the fixture is flush-mounted."
The master bedroom's king-size bed has a silk-mohair tufted headboard with 14K gold studs. A mirror is integrated above to visually expand the space, with a chandelier mounted on a backlit blue agate stone veneer panel. There is also a two-place divan. "One of my favourite smaller details are the square, plated nail heads integrated into the bottom of the bedframe, as well as in the counter stools in the show kitchen," says Rodríguez.
The master lavatory has twin vanities with backlit mirrors, sconce lights and rectangular vessel porcelain sinks; a steam shower with double rain heads; and a backlit blue agate accent panel.
Other key features of the cabin include
Fireplaces
The aircraft's 'fireplaces' are simulated with 4K monitors. In the VIP lounge, there is a two-way fireplace with screens on each side of the space's central column.
"I love integrating simulated fireplaces when possible," shares Rodríguez. "It's a great means of incorporating visual warmth while adding another dimension of comfort."
Above each fireplace is a 4K IFE monitor, hidden behind a custom art piece that recesses into the column when not in use.
Blue agate
The headliner in the VIP bedroom features a backlit blue agate stone veneer panel accompanied by a flush-mount fixture. The backlit blue agate is also carried into the VIP lavatory as a vertical accent panel in the steam shower.
Symmetry
Holding true to the symmetrical layout throughout, the dining area's sideboard buffet cabinets are incorporated into the sidewalls with stowage above and below. Integrated OLED monitors, linked to exterior cameras, create the look of window panels.
© Sentinel Aviation. Company No. 09400896. Vat No. 221163359.
All rights reserved. Created by AJA Design.