No Heavy Lifting, Hassle or Unreliable Airlines
Pandora Amoratis from UK's Daily Mail – Reports
No heavy lifting, hassle or unreliable airlines. What's the price you'd pay for this? ROAR AFRICA's Wildest Safari on Earth aboard the Emirates Executive Private Jet costs $149,200/person
ROAR AFRICA'S Wildest Safari on Earth is a 14-day voyage across the untouched wilderness of Africa. Gliding on the ultimate magic carpet, the Emirates Executive Private Jet, from Zimbabwe and South Africa, to Tanzania and Rwanda. The trip-of-a-lifetime is devoted to preserving the continent's last remaining wildlife and reviving the seamless elegance of what long-haul travel once was, with an itinerary that will leave you in wild awe!
Ten guests will experience the natural beauty of Sub-Saharan Africa, staying at Singita's five-star luxury lodges. The Wildest Safari on Earth unites three top-tier brands renowned for their commitment to ultra-luxe experiences: Emirates, Singita, and ROAR AFRICA. Unsurprisingly, such access and hassle-free movement comes at the cost of $149,200.
And, while all 10 travelers fly together, it's an entirely singular experience at each destination for each guest, with every individual want, need and desire catered to. The most lavish African adventure is under the impeccable orchestration of ROAR AFRICA's CEO and founder, Deborah Calmeyer, and of Africa's top guides. Deborah's deeply-rooted lineage goes back 300 years to when her ancestors first arrived in Cape Town. While she currently splits her time between New York and Africa, she spent her childhood growing up on a farm in Zimbabwe, surrounded by wildlife.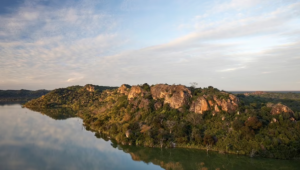 With incredible insight and on-the-ground knowledge only a local can have, her safari offers clients unparalleled access to Africa's finest treasures. This life-changing journey to four of Africa's most pristine, untouched tracts of wilderness, brimming with wildlife and epic scenery, will 'move you in ways you never imagine,' said Deborah.
'This trip is about turning explorers into restorers.' The annual trip is only offered to 10 people and takes place in September — the very best time for exceptional wildlife viewing.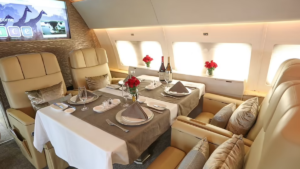 'I promise you a life-changing journey of great passion and meaning. We travel not to move but to be moved,' she told DailyMail.com. Deborah and her all-African team have designed an itinerary filled with spectacular activities that blend glamour, enchantment, culture, and surprise within an ethos entrenched in humanity and a commitment to sustainability and conservation.
'This authentic experience sets a new paradigm in ultra-luxe adventure and sustainable travel and is also a robust catalyst for change,' she said. The voyage begins on September 11th at the five-star Bvlgari hotel in Dubai. From there, guests board the Emirates Executive Private Jet, custom-created for travelers who want to go "beyond first class" and reflect the glamour of a bygone era when air travel was both exclusive and an integral aspect of luxury travel experiences.
It features 10 private flatbed suites with minibars, a spacious lounge, spa bathrooms, and a cabin crew committed to providing exceptional personal service alongside sumptuous fine dining, and a spectacular wine list. The first stop is Zimbabwe's Singita's Pamushana Lodge in Malilangwe Wildlife Reserve, famous for its colorful Masa trees, ancient rock art sites, and elusive black rhino population.
Next, Singita Ebony in the world-famous Sabi Sands, where adventures will include guided bush walks and glorious game drives across vast, untamed landscapes with the highest density of leopards in South Africa. To spend unhurried time so close to these majestic cats with all the expert insights and knowledge of a ROAR AFRICA guide is an experience that will stay with you forever.

Then, on to Singita Sasakwa in Tanzania and finally ending at Singita Kwitonda to see the last remaining mountain gorillas on earth in the lush rainforests of Rwanda.
With a belief that nature is our nurture, The Wildest Safari on Earth is more than an ultra-luxe adventure through Africa; it's a journey within.
'I live between Cape Town and New York City, and after living in Manhattan for more than 22 years, what has become painfully obvious to me is that the western world's obsession with self-improvement, self-optimization, and self-indulgence sidesteps that most sacred and ancient connection — the one between all living things,' said the founder of ROAR AFRICA.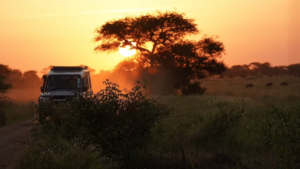 'I call this ancient connectedness ecological intelligence, and I've witnessed Africa's vast, untamed spaces awaken the discovery of peace, purpose, and a deep sense of self. 'By encountering the wild with intention and purpose, I've come to understand how nature holds the key to our aesthetic, intellectual, cognitive, and spiritual integrity.' Here's to a true safari in the wild…a journey back to self. Perfectly curated and utterly transformative.
Images courtesy of Emirates Executive Private Jet, Singita Pamushana Lodge, Roar Africa.
© Sentinel Aviation. Company No. 09400896. Vat No. 221163359.
All rights reserved. Created by AJA Design.