Inspired! Surely one of the Most Unique Holiday Rentals in the World!
Alessandro Renesis from SupercarBlondie – Reports
This Boeing 737 has been turned into an ultra-expensive private villa. This decomissioned Boeing 737 has been turned into a gorgeous private villa in Bali, Indonesia.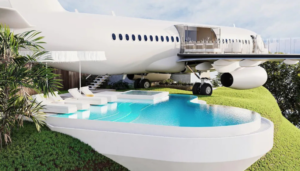 The Boeing 737 used to be part of Mandala Airlines' fleet, but Indonesian airline officially ceased operations in 2014. A few years later, a wealthy Balinese resident bought the plane, restored it, and had it installed on a high cliff near Nyang Nyang beach in Bali. The aircraft-turned-holiday rental is truly stunning, as is the location.
You approach the aircraft walking along a stone staircase, hidden behind a wooden gate. Inside the aircraft, you'll find a fully-equipped kitchen, two bathrooms and two bedrooms.
The cockpit of the Boeing jet was converted into a fancy bathroom inside the private villa. The view from the bathtub is spectacular and the wooden furnishing adds a touch of warmth to the experience.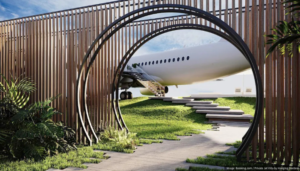 And as a cherry on top, one of the wings is now a patio jutting out into the sea. The outdoor space surrounding the plane was used to create a beautiful garden. There's also another patio / hangout spot complete with a fire pit.
And last but not least, there's an infinity pool that looks out towards the sea. The 'Private Jet Villa by Hanging Gardens Air' – this is the official name of the rental – is listed on Booking.com for around $7,300.
It will be available from July 2023.
© Sentinel Aviation. Company No. 09400896. Vat No. 221163359.
All rights reserved. Created by AJA Design.